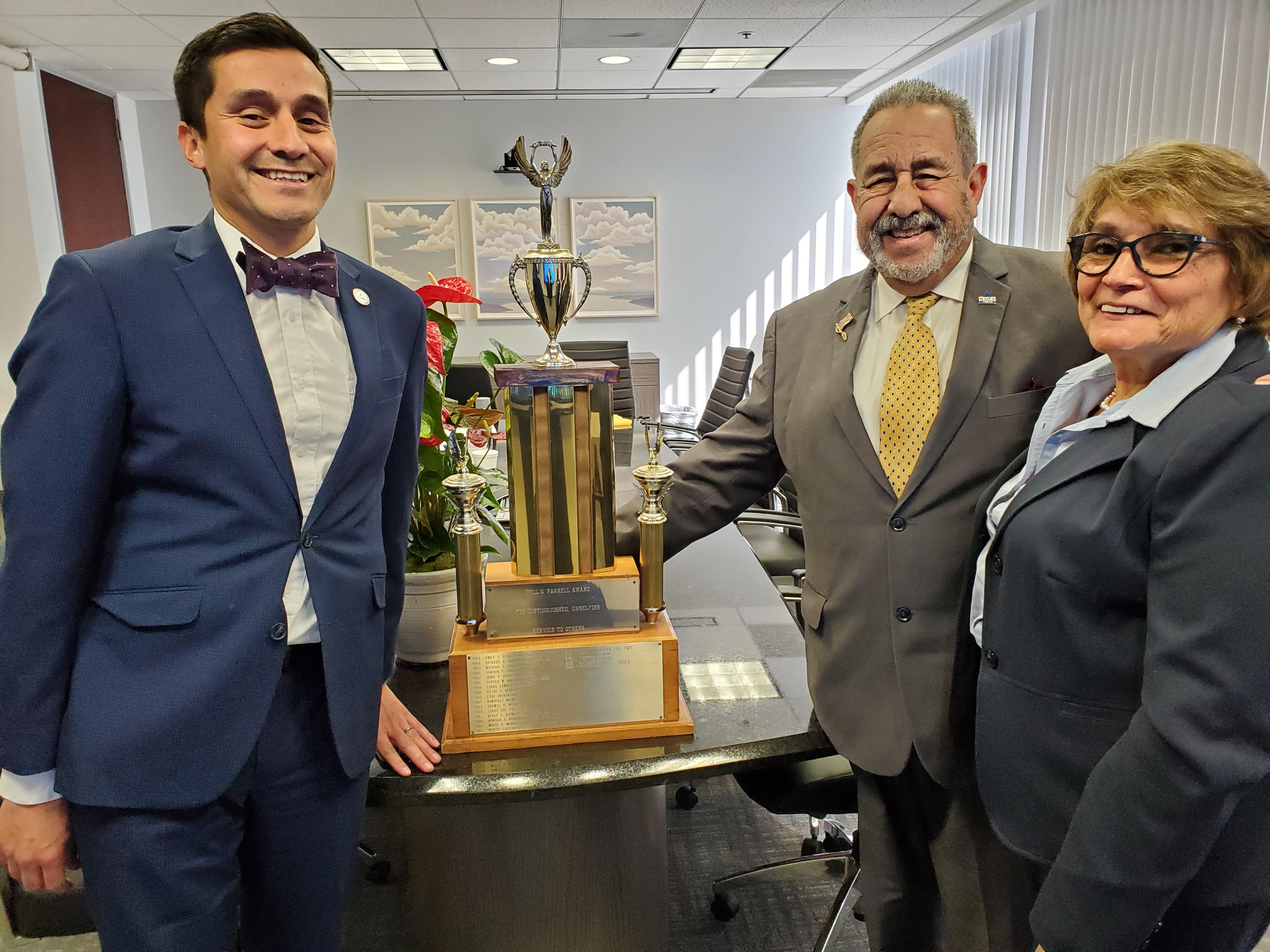 The 69th Annual Will G. Farrell Public Service Award & Leaders Recognition Event hosted by NAIFA-Los Angeles (National Association of Insurance and Financial Advisors) and FSP-Los Angeles/Pasadena (Society of Financial Service Professionals)-was held on February 24, 2022, the second year on Zoom.
Two dynamic speakers, Daralee Barbera, EdD, CFP®, CMFC®, CLF®, ChFC®, CPBC® and William E. Comfort, CSA®, CLTC®, LTCCP® provided exceptional education to the over 50 attendees.
Dr. Barbera spoke about "Client Trust-Win It, Keep It, or Lose It-4 Advisor Must-Dos". While trust may sound like a simple concept, Dr. Barbera, whose presentation style is "natural-born instructor", explained that it takes mastery and constant relationship work for success with clients. Characteristic of a consummate professor and coach, she explored in great depth the four steps required for agents to master and keep client trust for a successful practice. Dr. Barbera spent 35 years in the financial services industry as a producer, manager, multiple award-winner, author of two books, and executive vice president of GAMA International. Although retired from Waddell & Reed, her newest ventures include President and Principal of Diversified Professional Coaching, LLC and the incoming Director of the Financial Planning Program at California Lutheran University.
Bill Comfort's presentation was "The LTC Planning Imperative". Bill exuded his passion for imploring agents to educate their clients on this absolute necessity. The audience was riveted by his superb and dynamic delivery, reminiscent of his former career as a radio and TV reporter. Based in St. Louis, Missouri, Bill is the owner of Comfort Assurance Group, LLC. Bill has served as a Master Class instructor since 2001. He also serves on the CLTC Board of Standards. Bill works with individual clients, financial planners, estate planning attorneys, CPAs, investment firms, home care industry, and other insurance agents to develop and fund effective, integrated LTC plans. Bill has trademarked the phrase "The LTCpro®" to identify his expertise.
The big event concluded with the announcement of the winners. Leticia Anguiano of Strategic Choices Financial received the Agent of the Year Award. Quality Award Winners were: George Geldin and Jose Rodriguez, Jr. receiving the Health and Employee Benefits Awards and Tom Michel receiving the Life and Annuities Award. Lynne Rosenberg accepted her permanent trophy for being the 2021 recipient of the Will G. Farrell Award. The highest, most prestigious, and most coveted award of this event, the Will G. Farrell Public Service Award, for 2022, went to Gilbert Z. Mares, MPA, LUTCF. Gil began his insurance carrier in 1975 after having been an aide to the Chair of the White House Cabinet Committee on Opportunities for Spanish Speaking People, an examiner for LAUSD, and the Community Director for Management Training for the Hispanic Coalition of Los Angeles County. Known for his amazing political relationships, Gil has served NAIFA-Los Angeles in various capacities, including President, Chair of Government Relations Committee, and Chair of the Political Involvement Committee. His contributions to his community are endless, including Pasadena Police Foundation, American Legion, Lions Club, and Boy Scouts. Definitely well-deserving, Gil exemplifies what true public service is all about. He is very proud and humbled to be the first Hispanic of Mexican descent, 2nd generation Texan, raised in Los Angeles, to receive this award.
Congratulations, Gil Mares!