Register to attend the Fresno Virtual Lunch Meeting with Andre Covington!
January 19, 2021; 11:45 a.m.-1 p.m.
ABOUT ANDRE COVINGTON, Actor, Comedian, Radio Show Host, Speaker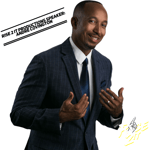 RISE 2 IT PRODUCTIONS is proud to have Mr. Andre Covington join our family of motivational speakers. If you are from Central California, the odds are that you are very familiar with his work. When he was just a child, his mother told him that he would one day become an entertainer who would positively impact millions of people. Being the shy and soft-spoken child that he was, he never imagined that she would be correct with her bold prediction-she was indeed.
Andre is the oldest of three siblings, who was raised by a single mother. He grew up in an impoverished neighborhood surrounded by crime and drugs. Nonetheless, he takes immense pride in his upbringing, and draws upon these experiences to help other individuals who may be going through a similar way of life.
Mr. Covington began his comedy career in San Jose, CA. He has fully engaged countless audiences with his unique brand of humor, which he describes as "everyday situations taken to the extreme." In addition, Andre has had many TV credits; MTV, Comedy Central, and HBO to name a few.
Without a doubt, his comedy career has opened many other opportunities that he holds near and dear to his heart. In early 2018, he performed for the United States military; he was in 14 countries in 20 days throughout the Middle East and Africa. The tour was highly successful and received numerous accolades for the levity it brought to our military men and women.
Moreover, Covington has extensive experience writing and producing, which has strengthened his communication skills and eventually landed him with his own radio morning show: The Greg and Ore Show, Central Valley's #1 radio morning program, on 097.1 FM in Fresno, CA.
Ultimately, Andre is excited to share his special brand of motivation and insight. No matter the situation, he will find a way to be impactful, entertaining, memorable...and all of this...with a heavy dose of humor.