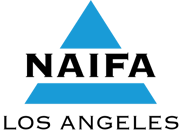 Join NAIFA-Los Angeles Thursday, August 26th for a Life Insurance Awareness Event with David McKnight, Author of "The Power of Zero", and Faisa Stafford, CEO of Life Happens! 11:30 AM - 1:30 PM PST on the Zoom Platform.
David McKnight graduated from Brigham Young University with Honors in 1997. He has been featured in Forbes, USA Today, The New York Times, Fox Business, Bloomberg Radio, MarketWatch, CBS Radio, CNBC, Yahoo Finance, Nasdaq.com, Reuters, Investor's Business Daily, Kiplinger's and numerous other national publications. David was a Focus Speaker at the worldwide annual meeting of MDRT in 2014 and 2021 and is a multiple Top of the Table qualifier. His bestselling book The Power of Zero has sold over 300,000 copies and the updated and revised version was published by Penguin Random House in 2018. This book was recently made into a full-length documentary film entitled The Power of Zero: The Tax Train Is Coming. When his follow-up book Tax-Free Income for Life launched in November of 2020, it finished the week as the #3 most-sold business book in the world. He and his wife Felice have seven children.
Faisa Stafford, LUTCF, SHRM-SCP, has been with Life Happens, originally the Life Foundation, since 2003. Over the years, she has held various roles within the organization, including COO, CFO, Comptroller, and Industry Communications Manager, with her focus always being to increase efficiencies and implement new technologies to better deliver consumer messaging that resonates and helps the industry better protect consumers. During her time at Life Happens, the non-profit implemented the industry's first month-long awareness campaign (Life Insurance Awareness Month), a scholarship program for students who lost parents who had no life insurance, and an award-winning digital platform to distribute Life Happens' content to members, agents and consumers. As of January 2020, Faisa became Life Happens' first female CEO and President. Faisa and her husband live in Virginia with their two daughters. Faisa attended college in California, at California State University Chico.